Don't forget to check out all our homes at the 2015 HomeShowExpo in July! There will be great home features to give you ideas on how to make your dream home a reality.
Visit www.dmhomeshow.com to learn more about the HomeShowExpo.
Visit www.prairietrailankeny.com to learn more about this year's home show site.
---
Mudrooms
By Emily Klemme
Mudrooms have become a popular home feature over the past few years. The room provides a great way to leave the messiness of the outdoors in one, easy to manage area. While it may be called a mudroom, with good planning, it can also be an easy place to clean and not to mention an easy place to organize coats, boots, and sports equipment.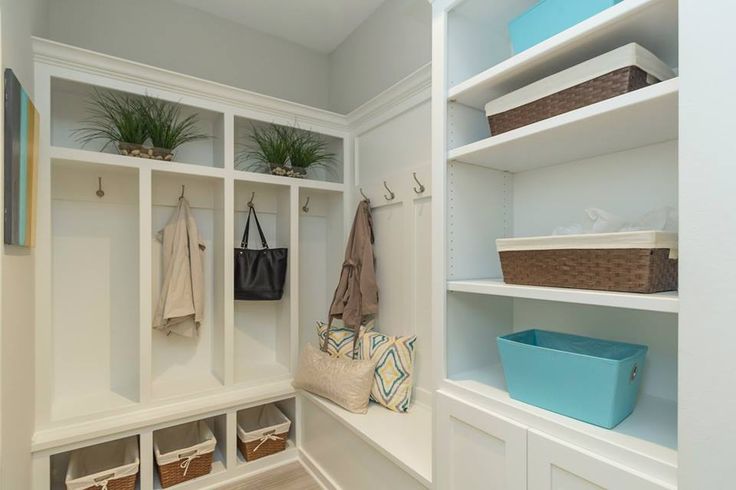 If you're thinking about adding a mudroom to your home, there are a few things to think about so you can plan an efficient, great looking space.
Who will use it?
A mudroom will look different depending on who lives in the house. A family's mudroom will probably look much different than a mudroom for a couple without kids or someone who lives alone. Pets are another consideration when planning a mudroom.
A family's mudroom would be more efficient if there is a space for everyone in the family, which can easily be divided into cubbies. This will provide an easy place for coats, backpacks, and shoes. If the kids in the family play sports, a good idea is to have a separate area where you can store each kids sporting equipment. By doing this, you are providing one area for kids to look for their things and put them away to avoid a bigger mess.
Also if you have kids you will have to consider how high they can reach, so you might need to have coat hooks and baskets lower depending on how old the kids are.
A couple or someone who lives alone might not need as big of an area if it's just one to two people storing their outdoor gear.
If you're living with a pet, adding a space for their lease and other outdoor gear (pet clothing, pet shoes, etc.) will help everyone to keep it in the same place and not clutter other areas of your house. Consider having a space to clean off paws as well so mud doesn't get tracked in the rest of the house.
Flooring
Since this is the mudroom, it would be best to pick out durable and slip-resistant flooring. It should be something that can clean easily too.
Picking out a darker color for the flooring will hide some of the filth where lighter flooring will display it. Some considerations could be textured rubber, ceramic, and stone tiles. Lining the floor with a couple doormats will also help to keep the floor cleaner and absorb some of the water and dirt.
Walls
In the mudroom even the walls might not be safe from dirt. A good option would be something that can be sponge cleaned. It also may be necessary after time to repaint walls if they get dingy.
Seating
Having a bench or seating provides a great place to put on shoes and have somewhere to clean things off if need be. Benches will provide better stability when taking off some of the harder footwear such as cleats or skates, depending on what you or your family does.
Storage
Lastly, storage will be an essential part of any mudroom. If you are using the mudroom for a family you will likely need more storage than a couple or someone living alone. It's nice for everyone to have their own storage so coats and shoes don't get mixed up. Having a place for baskets is a great way to store smaller items and make the room look less cluttered.
A mudroom may sound dirty place, but with effective planning it can be an easy to clean room of organized storage that makes life a bit easier.