Kitchen Design Trends
By Emily Klemme
---
A kitchen is an essential room in any home. Not only is it a place for creating meals, it's also a gathering place. The chance to sit around the table with family and friends while sharing experiences can be the best part of each day, so people want to enjoy this space with plenty of room for prepping, cooking, serving, and dining.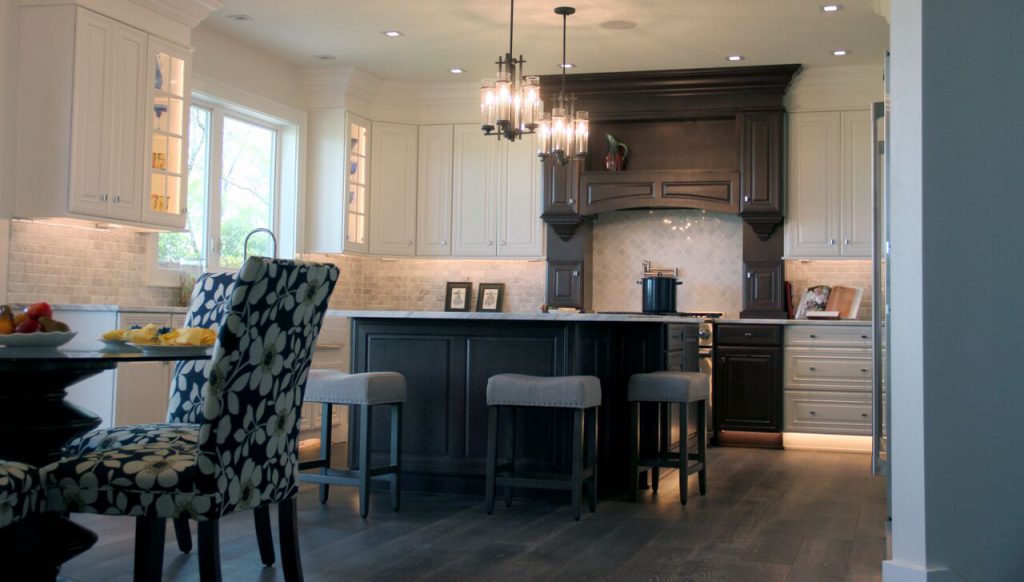 Whether you're looking to remodel a kitchen or build your dream home, here are some kitchen trends that are currently popular.
Open Concept
Having an open concept kitchen and dining space allows conversations to flow seamlessly among everyone in the space. This allows everyone to feel included in the fun. Open concept lets parents keep an eye on children while preparing meals. The design lets the space feel large and roomy instead of closed off and isolated.
Another trend that is a popular is open shelving. In place of cabinets, consider exposed shelves to make the space appear more open and airy. This not only provides practical functionality in a kitchen, it also adds a unique personal touch of style and color in displaying dishes and accessories that complement your kitchen's color scheme.
Black and White
While many homeowners like to use vibrant colors in the kitchen, a popular option in 2015 has been the simple, clean elegance of black and white – and not just as a choice in cabinetry. Many people are making black and white the colors of choice in appliances, backsplashes, islands, countertops, and fixtures, too.
When deciding on a black and white kitchen, you can go to either end of the spectrum for a striking monochromatic feel or a nice balance of both.
An all-white kitchen will have a look that is clean, light, and make the space feel larger. An all-black kitchen will have the look of elegance and dominance in the space while making it feel more intimate.
A mixture of both black and white, however, can play off each other well and give a mixture of looking clean with bold accents. The contrast in colors draws the eye to focal points in your kitchen.
Wallpaper
Wallpaper is an easy way to add character and design to a kitchen. From chevron print to bold graphics, many people are choosing repeating patterns for their wallpaper design choice.
If you're looking for a way to add more color or style to your kitchen but are afraid of a whole room commitment, consider adding wallpaper to an accent wall.
Smart Appliances
Technology has improved greatly over the last decade, and a great place to take advantage of these changes is in the kitchen.
An iPad installed in the kitchen allows for convenience in ordering groceries online to be delivered to the home. Some refrigerators have grocery ordering options built-in and can also keep take of food expiration dates and make meal suggestions.
Automatic faucets are another nice touch in the kitchen. Touchless faucets are ideal when hands are dirty or sticky, and they make washing fruits, vegetable and other prep items a breeze. Automatic faucets are convenient for children, too. They can even be an energy saver for when someone forgets to turn the handle completely off.
These are just a few of the current popular trends in kitchen design. By incorporating these trends, you can have a beautiful space that makes life a little easier and a lot more fun!