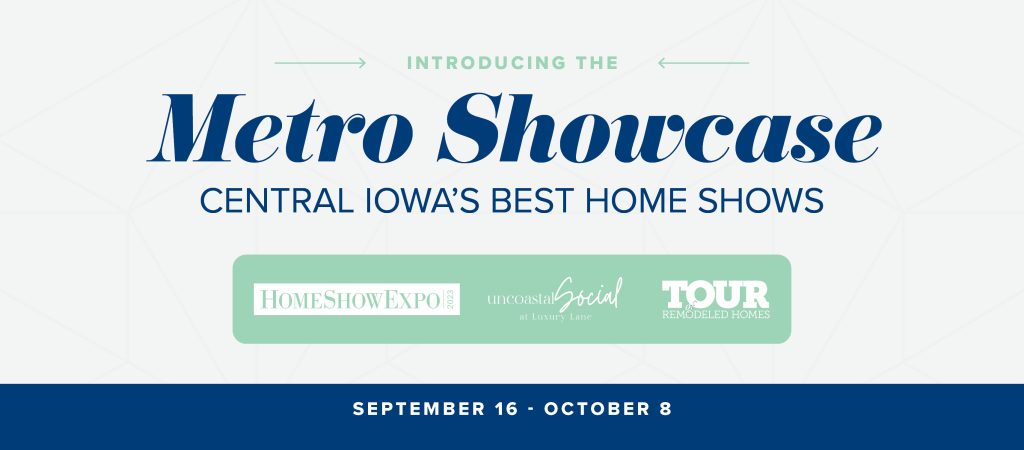 The Home Builders Association of Greater Des Moines is excited to announce The Metro Showcase – Central Iowa's Best Home Shows. This Fall, don't miss 4-weeks of non-stop action to the area. From new construction at the HomeShowExpo, remodels in the Tour of Remodeled Homes and high-end experiences at the Uncoastal Social at Luxury Lane, the Metro Showcase has it all.
About the HomeShowExpo
September 16 – September 17 | September 21 – September 24 | September 29 – October 1
The HomeShowExpo, hosted annually by the Home Builders Association of Greater Des Moines, presents attendees with a unique opportunity to peer inside and appreciate the style, craftsmanship and amenities of new custom-built homes constructed by local builders in attractive Central Iowa neighborhoods. We are excited to be in Accurate Development's community, Acadia located in the town of Urbandale and will feature six amazing homes. Tickets are $15 for adults (ages 11+), $5 for children (ages 6-10), and free for 5 years and under.
About the Uncoastal Social at Luxury Lane
September 28
The Uncoastal Social at Luxury Lane is an upscale tour, party and music concert during the annual HomeShowExpo. This VIP event is a progressive party through the six new construction homes, each offering different entertainment from games to live music and unexpected food and drink options. Tickets for Uncoastal Social are $150 per person. A portion of the proceeds will benefit charities with a focus on skilled trades education and affordable housing.
About the Tour of Remodeled Homes
October 7 – October 8
The Tour of Remodeled Homes presented by the Remodelers Council of Greater Des Moines is an annual event featuring an array of completed remodeling projects by top professionals in Central Iowa's construction industry. Tickets are $10 and are good for both days of the event or you can purchase a HomeShowExpo + Tour of Remodeled Homes bundle for $20 and gets you admission to both shows.