How To Maximize Your Entertainment Spaces
Entertainment happens everywhere throughout your home; but, great entertainment spaces can entertain several parties in one location. Setting up various zones within the same home, or room, can help you achieve a functional entertainment space that will make you the host with the most! Just like a successful open concept floor plan, you can use architectural elements or furniture pieces to separate spaces without walls. This concept allows for a broader scope of entertaining for all ages and personality types.
Creating Distinct Outdoor Entertaining Zones
Outdoor living has become significantly more important nowadays and entertaining in outdoor spaces has been a driving force for those looking to move/sell their homes. Creating a larger, more functional outdoor space can be easily achieved by maximizing outdoor usability.
 Focal Points : You can easily create separate zones by focusing furniture/lifestyle on different focal points,like a fireplace or the big selling view. Arranging your furniture around focal points will help you create intention for different zones in your outdoor space.
Architectural Elements : These elements can range in price, from making part of a larger deck into ascreened in porch all the way to changing the look of your space by adding a stepping stone/paver patio. These architectural elements can create visible, or invisible, barriers that separate spaces and make each feel unique.
Furniture Variation : The more obvious changes you can make to separate spaces would be a dining set and a lounge seating area. But, you can also change your furniture material (an aluminum framed piece to a rattan) or swap fabrics in order to create change. Selecting similar finishes all within the same scheme or tone can aid in a cohesive separation.


Creating Distinct Indoor Entertaining Zones

More time at home means entertaining guests; but, also, entertaining your whole family on a daily basis. In an effort to promote more togetherness, creating separate zones within the same level of your home is an integral part for the modern day family time.

Individualized Zones : Each person in your family deserves their own space. With that, it does not mean every toy needs to be out in eye-shot, but there are ways to incorporate spaces that are catered to specific family members that will also not clutter your home – adding someone's favorite game, a dedicated homework station, TV/gaming space, etc.
Specific Intent : There are always certain staple areas that you will want to include – a bar, a tv/theater area, game table area. You can use furniture to help carve out the separation of these areas without keeping them in their own specific rooms.
Multi-purpose Furniture : When selecting furniture, utilizing pieces that can be used in multiple areas of your entertaining spaces and blend seamlessly will aid in getting the most out of your spaces. While selecting these pieces, it is so important to make sure they work aesthetically and functionally. Using the right finishes and fabrics that withstand all of your chosen activities and zones will ensure durability.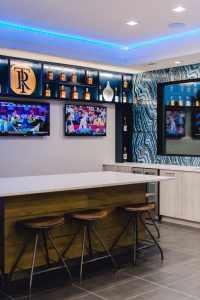 Blending Indoor and Outdoor Entertaining Zones
Your home's entertaining potential goes far beyond your indoor square footage or the size of your patio/yard. The push for indoor/outdoor living has been hitting heavy for the past few years; so, if you haven't already, now is the time to open up your home to it's full potential. There are so many opportunities to create specified zones indoor and out; but, the blending of the two, will make it seemed like you doubled your square footage instantly.
Open It Up : There are so many options now for doors and windows that integrate indoor and outdoor living. Doors that can open up full walls of your home, windows that allow for the perfect indoor/outdoor bar tops. These products make entertaining easy and doubles your entertainment space.
Transitional Spaces : Creating three season rooms, sunrooms, or screened in patios can give you an additional space to entertain in that will also act as a transition space between indoors and out. Adding a room like this with maximized windows will opening up the eye-line and create a seemingly larger space.
Think Outside The Box : Technology and furniture is ever-evolving, making it easier to than ever to blend your indoor and outdoor spaces. By mixing out of the box elements, you can create a seamless transition. Use pieces like outdoor TV's, indoor fire features, and indoor/outdoor furniture that can be utilized in a variety of areas.With these tips, you'll be able to maximize your home's potential and entertaining ability. Blending your indoor and outdoor entertainment spaces will ensure that you can accommodate a vast group of people. The utilization of every inch of your home will ensure your guests stay entertained throughout their stay. By using certain architectural elements or furniture pieces to separate spaces without walls, you will also come to realize how much space your home has and unlock the secret to a more comfortable living.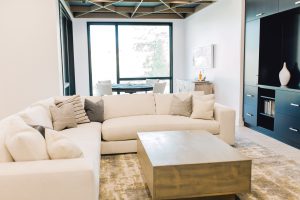 Article By Lexi Vander Sluis
Elizabeth Erin Designs
515.986.1895
lexi@elizabetherindesigns.com
www.elizabetherindesigns.com