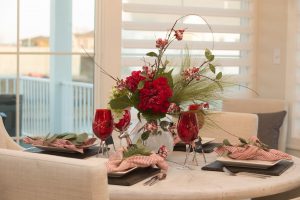 There are many ways to design with less stress
when working with an interior designer. At Forget
Me Not Design, we like to focus on a goal that the
homeowner wants to achieve. Sometimes the theme
can be as simple as a color like this home we featured
last year we centered around holiday red accents.
We wanted to make the season come alive using
traditional holiday red. The homeowner had a very
beautiful home so we had an incredible foundation to
use as our holiday wonderland unfolded throughout
our design process.
Tying In Personal Items To Your Design
Tying in some of the homeowner's items into designs
so that a part of their style in the end design makes it
seem more personal and allows the homeowner to
feel more a part of the end result. For example, I like
to use a vase of theirs or dishes to tie it all together
like in the picture above of the table setting we did.
At Forget Me Not Design, we like to have our designs
come alive from the very beginning. Whether we are
doing holiday decorating or just setting up a living
room, we want our finished project to be creative and
functional for our clients. We ultimately like to start
with a consultation with our client and outline what
they hope to accomplish in their home and establish
a budget for the project. As a designer, it is really
important to understand what they want, what they
like and things they do not like before we spend time
on creating the wrong look for them.
When you mention custom design or interior
design most people get nervous and start to think
"expensive". It is important do find a designer who
will work with clients to do as little or as much as they
are wanting to do and will work within your budget.
Designers will help with every aspect of the project whether it be picking paint colors, selecting flooring,
installing new blinds or adding home accents.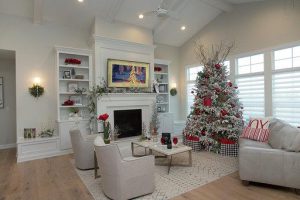 Keep It Simple
Having a beautiful home does not always mean that
it has to be over the top or break the bank to obtain.
Sometimes it just takes a design that works for the
homeowner and achieves the goals they have in
mind. In the end, the homeowner needs to love the
space they are in especially since we are spending so
much time in our homes right now.
One of the things our customers seem to really like
is being able to stop in and get help putting things
together on the spot. We pride ourself in offering
an amazing assortment of quality silk flowers and
plants that are ready to go out the door to your home.
We love being able to put together centerpieces or
accents for sideboards instantly for clients. I love to
make someone's day with creating a fall piece for
their front door or putting together the perfect accent
for their home.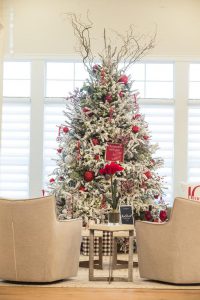 We hope that people look to Forget Me Not Design
as a stop when they are gearing up for the holiday season. We will have our entire store decked out
from top to bottom for the beginning of the holiday
season with the latest in holiday décor at our Annual
Holiday Extravaganza on November 6th from 10-6
and November 7th from 9-6. We will be having COVID
friendly holiday treats and asking all customers to
wear masks as they take in all of the sights and smells
of the season. My sister and I love Christmas, and we
go all out to share our love for the season with our
customers! Our store is in honor of our late husbands
and we always pay tribute to them with our Christmas
in Heaven Tree in their honor. Stop in and see what
makes us so different and unique during these very
different times we are facing in our world.
Article By Melinda Seeman
Forget Me Not Design
240 NW 36th Street Ankeny, Ste 104
www.forgetmenotblinds.com