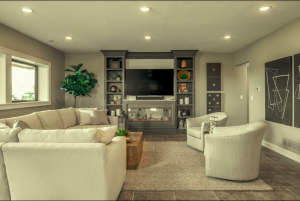 Electric fireplaces look great! They have come a long way since the cheap looking models of the past.
Gone are the days of electric fireplaces being mostly decorative. Today's models offer realistic looking flames, create more heat than electric fireplaces of the past and can be installed with minimal effort. There are plenty of other benefits to consider as well.
The first benefit is cost. Electric fireplaces are inexpensive to purchase and don't require a lot of installation cost. Because there is no need for a chimney, ventilation or gas lines, installation is simpler than a gas or wood fireplace.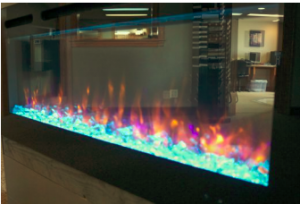 It's not going to cost you much to operate an electric fireplace either – somewhere around three cents an hour. So enjoy a nice weekend night in front of the fireplace for less money than you probably have between your couch cushions. Because you can install them practically anywhere, you can add value and appeal to any room of the house.
You'll also enjoy the added benefit of better air quality from electric fireplaces as compared to other options. There are no emissions or fumes to worry about.
But how to do they look? The short answer: great!
The flames you see are not real, but today's electric fireplaces shine a light on a background. That background is blown by a fan to create a realistic flame pattern.
The added features don't end there. You can add driftwood logs or ceramic white stones to provide more style. You can customize the color of your flames – orange, blue or a combination of the two – and choose from more than a dozen ember bed color options or choose to continuously rotate through all available colors.
Control your comfort from anywhere in the room with the convenient multi-function remote. Best of all, you can enjoy the flames year-round – with or without the heat.
There's also a variety of ways you can install your new electric fireplace. You can choose from models that install on your wall, built into the wall or a tradition style electric that sits on the floor.
Unlike most gas and wood fireplaces, electric fireplaces let you place artwork or a TV directly above the fireplace. No need for a mantel to protect your TV.
With sizes ranging from 40 inches all the way up to 84 inches wide, there's an electric fireplace to meet your space and your budget needs. Place a small one in the bedroom to heat things up on those cold winter mornings or use a larger unit to bring life to a dreary basement.
Whether you are building a new house or finishing your basement, the addition of an electric fireplace from Kohles & Bach will add value and comfort to your home year-round. Give us a call at 515-278-2900 or visit our showroom in Johnston to learn how a new fireplace from Kohles & Bach can transform your space.

FIREPLACE MAINTENANCE
If you already have a fireplace (or two) in your home, proper yearly maintenance is a must. Kohles & Bach offers a fall fireplace clean and check that includes a thorough cleaning inside and out as well as an inspection to make sure your gas fireplace is running properly.
Our fireplace department does yearly cleaning and fireplace checks as recommended by the manufacturer. We repair and service gas and electric fireplaces. Call 515-278-2900 today to schedule your inspection. You can get a fireplace and furnace inspection at the same time for one low price of $150.
MORE THAN JUST ELECTRIC
Of course Kohles & Bach Heating and Cooling has more than just electric fireplaces. We sell gas and wood burning options as well. If you're not sure which is best for you, take a visit to our fireplace showroom at 5185 NW Beaver Drive in Johnston to see burning fireplaces on display. Kohles & Bach offers installation, repair and cleaning of fireplaces in Des Moines and throughout Central Iowa.
We install in new construction and old construction, in commercial and residential locations. We install indoor and outdoor fireplaces. If you need a new fireplace installed in your Des Moines home or office, call us or visit our showroom today. Our showroom includes 17 burning fireplaces including both electric and gas option. All of our fireplaces are manufactured by Heatilator (located in Mt. Pleasant, Iowa!).
Article By: Blake Bach
Kohles & Bach
5185 NW Beaver Dr, Johnston
515.278.2900
blakeb@kohlesbach.com
www.kohlesandbach.com