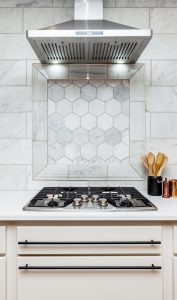 YOUR PROJECT WILL REQUIRE PULLING A PERMIT.
All large remodels and many smaller remodels require a permit and inspection from the city. Things that trigger needing a permit include (but are not limited to) moving walls and significantly changing the plumbing or electric layout of your space. In order to approve the permits, most cities will require construction documents (floor plans) of what the existing space looks like and the proposed remodeled plan. Any good remodeling designer with proper education and experience will be able to draft these plans and more, both for your benefit and to satisfy the city's legal requirements.
YOU'RE NOT DOING THE LABOR YOURSELF.
If you're fairly handy and doing the work yourself, you may be able to figure out your remodeling plan of action and make it happen without ever having to communicate the design vision to anyone else. However, if you're hiring the labor, even through a contractor, you'll want a way to clearly communicate the design to the entire team without room for confusion or misinterpretation. The expense of a remodel done wrong will almost always outweigh the cost of hiring a designer to create industry standard floor plans, elevations and 3D renderings that keep everyone on the same page.
YOU'RE NOT IN YOUR FOREVER HOME.
If the goal of your remodel is to make your home as appealing to potential buyers as possible, a designer will be a huge asset to you. Day in and day out, designers are surveying what the people in your area love, whether they intend to or not. Designers have seen trends come and go, they've heard what functions and what doesn't for each of their clients, and they've seen what "has to go" and what "I just want so badly!" on every single project. If anyone can tell you what upgrades go over well and what won't be worth your money for resale, it's an interior designer.
YOU ARE IN YOUR FOREVER HOME.
On the flip side, if you're planning to stay in your home for as long as you possibly can, you'll need your remodel to stand the test of time in both quality and aesthetic. In this case, hiring a designer is essential. Not only can we help you select products and finishes that will last, but we can refer you to the best tradespeople around, so you can have confidence in the integrity of your remodel. A designer will also look toward your future with you, and make sure you're considering every aspect of your needs as time progresses and your lifestyle changes. If longevity is the name of the game, you'll want a designer on your team.
YOU'RE NOT 100% CONFIDENT IN WHAT YOU LIKE.
Describe your style. If that's a bit hard to pinpoint and you would rather just say "yes" or "no" to options, you should absolutely be working with a professional designer; not to tell you what you like, but to discover what you love. Designers can create a space that makes you feel at home, no matter how in-tuned with your personal tastes you may be. We get to know you, your family, your lifestyle, your hobbies, and we explore the psychology behind your preferences so that we can guide you to a well-designed space that fits your needs.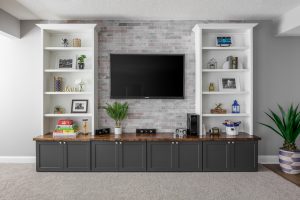 YOUR SPACE DOESN'T FUNCTION AS-IS.
Let's talk about kitchens – possibly the most important workhorse of any home. If you love your kitchen's layout as-is, but the finishes are outdated, you can probably get by with just going to a store, choosing new finishes, and calling it good (assuming that you also are very confident in your style and color preferences). However, just as the American family has evolved and changed significantly with each decade, so has the way we use kitchens. As our most-utilized spaces, kitchens feel the impact of our cultural changes with time more than any other room in the home. In the past 50 years, we've quickly gone from the ideal kitchen being a private workroom to it being one of the largest rooms in the home with space for the entire family to eat, class projects to be completed, and New Years parties to be hosted. If your kitchen is stuck in the past, an interior designer can completely rework it to function for the life you live today.
YOU GET OVERWHELMED BY TOO MANY OPTIONS.
If the idea of going to a showroom sounds fun until you get there and have no idea which options to choose, you should hire a designer. By the time we're in the showroom, we've already gotten to know you, figured out a vision for your space, perhaps even shown you 3D renderings of your future space and discussed exactly what we'll be looking for. Going into a showroom without a clear design vision is like going to a car dealership without knowing your budget or what kind of car you want. It's much better to have done your research and know exactly what you want, with very little learning/discovery left to do. Maintaining control of the project so that surprises are avoided is a large part of an interior designer's role.
GETTING THE BEST PRODUCT QUALITY/ PRICE RATIO IS IMPORTANT TO YOU.
An experienced interior designer is well-connected to the remodeling industry professionals in your area: contractors, builders, sales reps, vendors, fabricators, installers of all kinds, plumbers, electricians, painters, engineers, etc. They'll know which professionals are right for you, which products will serve you best (and which ones will put you over budget for no good reason), where to get the best deals, who has the best customer service and warranties, and even who will offer the proper shipping timelines for your project. Some designers, myself included, prefer not to sell products or subcontract labor through their business. This means that there's no incentive for me to sell you Option A versus Option B except for the merits of each option. When you hire Leu Interiors, we're a team. Your success is my success. As your trusty advocate, your interior designer will take good care of you and make sure you end up with a home that is well worth your investment.
Article By:
Becky Leu
LEU INTERIORS
712-363-5486
becky@beckyleu.com
www.leuinteriors.com