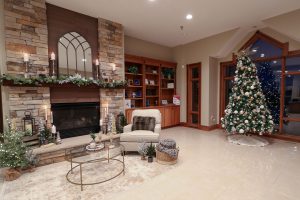 This feels like the year to think outside of the box when it comes to your Holiday décor. If there was ever a time to do something different, this is it! Don't you agree? We probably will not be attending quite as many holiday gatherings and you may not be having quite as many family members over to celebrate in your own home this season. I invite you to look at that from a different perspective, opportunity. Here are some ways to embrace this extraordinary time.
In today's world of instant gratification, it is not hard to dream up a new idea and have it at your doorstep in 48 hours. This might just be the year to take advantage of that to add some new décor to your holiday spaces! One impactful change is a Christmas tree makeover! Pick a new color scheme or theme and set aside your usual time-honored tradition and go for it with a Christmas tree transformation! It's okay, you can bring back the nostalgia next year. Don't feel guilty. I predict this shift will make you smile and feel like a breath of fresh air each time you pass by your holiday tree centerpiece!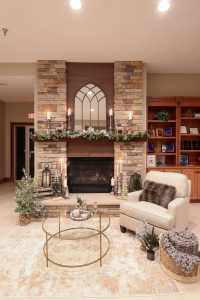 As you pull out your boxes of holiday fashions, it might be as simple as placing them differently. We tend to do the same thing each year. The holiday art print on the same wall, the nativity scene displayed in the same way. Take a moment and ask yourself how you can change it up. Even the same décor with a new position in the home can impart excitement and novelty. Along this same line, make some minor additions to your current decorations. If you have always hung garland at the mantle, take a new string of beads, berries or tinsel and intertwine the two. Take a wreath or greenery item you have and flock it yourself this year. There are sprays to make things sparkle, instructions to make things "snowy" and videos that tell you how to amp up your Christmas in many ways. You get the idea.
This year JY Design decided the display for the HBA fireplace should have a "Treat Yourself" theme. Gold, champagne, silver, sparkle…. Creating an environment that makes you feel as if you are on holiday in a luxury hotel nestled in the snowy mountains of Vail, Colorado. You can do this in your home as well. Create a look that transports you to another place or another time. That can be done by formalizing it as we have done, or by bringing to life another culture or another decade in time. How would your holiday décor change if you took your favorite vacation spot, "elfed it up" and made it your holiday theme?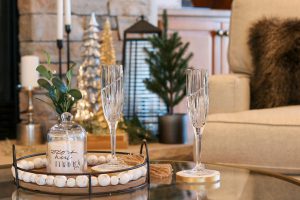 As I was thinking about holiday themes, I thought of something that I have not thought of for many years. My grandmother had a full-size Christmas tree that was entirely made of aluminum! It was prickly and silver and although back in the 1970's seemed old-fashioned, now looking back, I am thinking "what happened to that tree???" I am so wishing I had it to bring out this year and create not only an old memory of Christmas but a completely new holiday vibe in my own home. I can envision a "Mid-Century" Christmas theme with that tree and a whole slew of hand-made Scandinavian-style ornaments, paper cut-out garland, and strings of popcorn. Wow, what a vision! Can you see it?
So, whether a "treat yourself" Christmas sounds refreshing or a throwback holiday gets your heart racing, find ways to change it up. I also plan to pull out some old traditions with recipes and table settings that we have not pulled out in years to tantalize our palette. Think outside the box and surprise those closest to you.
THIS IS THE YEAR! You have permission to change it up! Embrace the uniqueness of the 2020 holiday season and create something special… something different. What I am suggesting, I promise, will feel like a holiday hug for your soul.
Article By Julie Youngblade & Shelby Silvers
JY Design
3051 104th St, Ste B , Urbandale
www.jydesign4u.com