The 10 Most Common Kitchen and Bath Remodeling Mistakes – And How To Avoid Them
As an interior designer who specializes in kitchen and bathroom renovations, I've seen countless remodeling mistakes, big and small. It's only human nature to mess up every once in a while, especially when you're trying something new like renovating for the first time. But it's my job to have the experience, expertise and forethought to avoid these mistakes wherever possible, saving my clients, myself, and my team from the headaches and a lot of time and money wasted. Over the years, 10 particular remodeling mistakes have stood out to me as big enough to seem obvious, but simple enough to miss.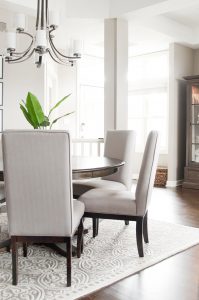 Mistake #1 
Starting without a design plan
It seems obvious, right? Formulate plan, execute plan. But remodeling projects often take quite a while to save up for, and you've likely spent so much time collecting magazine clippings and HGTV inspiration that when the budget is ready, you want to jump in. The problem with this is that without careful consideration of your space's specific needs and constraints as well as a thoroughly explored and developed set of construction drawings and 3D renderings to provide your contractor with, you could run into expensive problems. For example, you might end up demoing the only wall that your shower could have been relocated to, or ordering final sale cabinets that don't account for the space the new drywall will take from your recently framed room.
The easiest solution to this is to hire an interior designer first thing, or as soon as possible. Ideally, your design plan will be 80% completed before you even approach contractors for bids. If you already have a contractor lined up or in mind, it's not too late – ask them if they've worked with a designer they can recommend, or Google interior designers in your area. Just be sure to read through their websites (and reviews!) to know you'll be in good hands with someone who knows their stuff.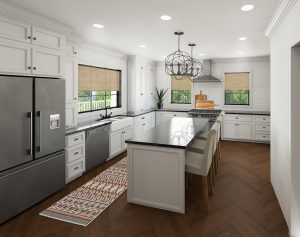 Mistake #2 
Assuming anything, ever
This goes hand-in-hand with the above mistake; everything should be clearly communicated in either the plan drawings of your space or in writing prior to being executed. There are few things more devastating than coming home to a tile installation that looks nothing like you imagined because you assumed your installer understood the description you gave on the phone or mentioned over your lunch break.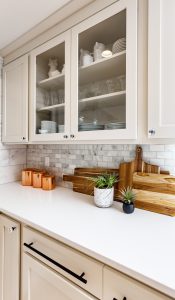 Mistake #3 
Following trends on TV
It might look beautiful in "their" space, but there are a couple of key things to keep in mind with trends. First, anything can look good with the right photo or video editing. Second, by the time that episode aired, the design had likely been installed 6 months to 1 year ago already, and that trend is older than you think – don't even bother with it. Focus on creating a space that you love the look of, and that functions for your family and its unique personalities.
Mistake #4
Selecting fragile materials
It's important to have a thorough understanding of the material you've selected for your floors, cabinets, countertops, backsplash, shower floor, shower walls, grout, etc. Not all materials were created equally, and if you plan to use your newly remodeled space at all, this mistake will make itself apparent quickly. For example, natural stones are porous and need to be sealed. But even then, there are some applications – like a kid's shower – that I would never use a real marble in, no matter the budget or quality of the sealer used. Your designer or a trusted sales professional should be able to help you understand the durability of each product you have your eye on.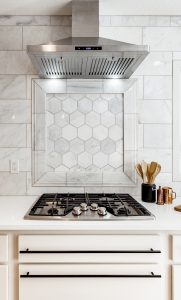 Mistake #5 
Keeping a non-functioning layout
When updating your kitchen or bathroom, if you're replacing exactly what you have with newer, prettier versions in the exact same layout, stop. First consider "did this layout have any flaws?" and make sure you're not spending your hard-earned money to have prettier versions of the same problems.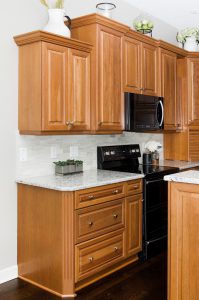 Mistake #6 
Misunderstanding scale
Another all-too-common mistake is ordering a mirror, pendant light or 30 cabinet pulls online without really looking at their dimensions. Before clicking "confirm order", be sure to get your ruler or tape measure out and visualize how large the item really is so you know exactly what to expect on delivery day.
Mistake #7 
Selecting colors blindly
Do not decide on a final paint color while you are anywhere except for in the space you're remodeling. This same rule goes for every finish in the room; the cabinet paint or stain, the tile and grout pairing, the countertops and flooring – all should be considered from within your space, using both natural and artificial lighting to make sure they still look beautiful in both.
Mistake #8 
Splurging in the wrong places
Whether it's firmly established or flexible, the budget is a deciding factor in many of the small decisions that add up throughout the course of any project. Before you know how much you can do with your money, you need to understand how much things cost, which things are worth investing in, and which things will perform just as well if you spend less on them. Knowing your own lifestyle and prioritizing your needs accordingly are the keys to finding smart, money saving opportunities.
Mistake #9 
Hiring the cheapest bids
When it comes to skilled labor, you will get what you pay for. Period.
Mistake #10 
Forgetting who the space is for
If you plan to continue living in your home post-renovation, don't let your main focus be resale value, what your neighbors think, or what your mother-in-law will appreciate. Your designer will be your advocate and help you consider every decision from a place of unbiased honesty, keeping your best interest in mind. At the end of the day, your remodel is about you, so let the finished result reflect that!
Find a local home remodeler here! 
BECKY LEU
Interior Designer and Owner Leu Interiors
712-363-5486
www.leuinteriors.com
Connect With Becky Leu
Follow Leu Interiors