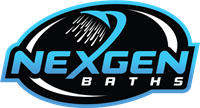 It's one of the most important rooms in your home, where you begin and end each day. It's the place that everyone uses and can set the tone for the rest of your home. We understand the value of your bathroom and are here to provide you with a space that you love and enjoy using each and every day.
NexGen Baths was founded by Colby and Wyatt. After meeting while attending carpentry school at Iowa Central Community College, the two quickly learned they both had aspirations to provide their future customers with superior service and quality work.
After spending their own time in the bathroom remodeling industry and custom carpentry field, they joined forces to put their experience and expertise together to form NexGen Baths.
?
Here at NexGen we pride ourselves in being a locally owned and operated company- not just another franchise. It is our goal to provide our customers with the highest level of service, all while maintaining the personable experience you get when working with a small business. We strive to keep our prices affordable and competitive so we can provide our neighbors, friends, families and referrals with the bathrooms they have always dreamed of.
Based in central Iowa, serving your local community.