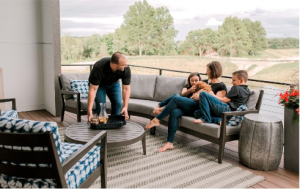 This year has been trying to say the least; but, within the chaos, we have found new ways to live our lives to the fullest. One of the most transformed, most utilized spaces this year has been outdoor living spaces. Now, more than ever, people have been putting in a great amount of effort to ensure their home serves them perfectly – inside and out. With the events of the year, we have seen several new ways that people are achieving their best outdoor living spaces. Moving forward, these new practices are going to become ever more prevalent and necessary in every home (especially when trying to put a home on the market).
A SAFE HAVEN
The need for a safe and comfortable space for retreat, relaxation, and entertaining in the fresh air has become a daily occurrence for adults and kids of all ages. This type of space is no longer seen as a luxury but a necessity! Both work and play have moved outdoors. More people have embraced working outside and are now bringing their work stations outdoors when they can. A quiet space where they can organize their thoughts and be productive within the same property, as their kids playing, has become an everyday occurrence.
BRIGHTER TONES
People have been swapping their neutral tones for bright colors that brighten their mood. The days of neutral tones that don't stand out from the crowd are over. People have been yearning for fun bright hues in their outdoor spaces. Outdoor living spaces have a notion of color freedom and a sense of disconnection from the interior aesthetic of the home. These changes have been occurring with cushions, pillows, umbrellas, and smaller furniture pieces that are all lower priced items that are easily swapped out when tastes change, or normal wear and tear happens. These are also changes that can happen with people's current furniture pieces that they want to give new life. These brighter tones give more personality and greater sense of life to these outdoor living spaces and we will continue to see these hues more utilized in the future.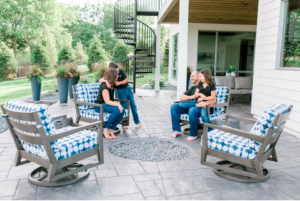 MULTIPLE ZONES
Just simply having outdoor living space is not enough anymore. The outdoors have become an extension of the home. The spaces you would find inside the home, are now replicated outside in different zones. People are now putting in dining/cooking areas, lounge areas, and conversational areas. These areas, much like they are inside the home, are separate spaces but typical adjacent to each other. This practice has been expanding people's perceived square footage a great deal. Taking on these various areas to garden, cook, dine, relax, play, lay poolside, enjoy a fire, and converse – all play an essential role in maintaining a healthy sustainable environment within your own property lines.
PRIVACY IS NOT TOP PRIORITY
As reclusion weighed heavy on people's social lives, we found that privacy fences weren't as heavily utilized and people shifted into more conversational parts of their property. Conversing from afar led to front porches, and front yards in general, getting some much needed attention to visit with neighbors; while backyard spaces grew in size to accommodate guests in a safe manor. Wanting to keep their interior spaces protected, exterior spaces became the higher trafficked zone for entertaining; and, with that, the want for privacy lessened.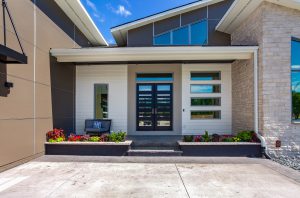 TRANSITIONAL SPACES
With increased traffic and longer hours spent enjoying the outdoors, our transition spaces have begun to transform in the way they are utilized as well. Higher traffic to these areas has created needs that most of these transition spaces never required before. Innovative solutions to incorporate more shoe/clothing storage, drop zones, and quickgrab cookware have been at the top of the list. Most transitional spaces have access to outdoor living spaces in a couple areas of the home. It's becoming more essential to enable these spaces to accommodate those needs.
Built-ins, cabinetry, or furniture pieces with storage options have become these transitional space's best friend. As designers, we are always looking towards the future in order to predict trends and anticipate client needs. With the events of the year, this statement has never been more true. Keeping up with our own lives and the lives of others affected by the chaos has been an in depth research process. The feeling of freedom to play at a park made in our backyard or entertain our family/friends in a safe environment has been the underlying cause of the large outdoor living space push. Creating more spaces to enjoy, in properties we already own, has brought a new level of enjoyment out of our homes that we never thought possible!
Written By
Jodi Peterman
515-986-1895
jodi@ElizabethErinDesigns.com