Beyond self-evident aspects, what are some of the less obvious opportunities for maximizing space in your home through thoughtful design?
BEDROOMS.
Doors swinging into a bedroom may interfere with how you want to arrange your space. One solution pulls the door forward into the
hallway leading to the bedroom. In contrast to windows in the center, placing windows in the corners offer more placement options for your bed and furniture. And at 16-feet deep, this bedroom is large enough for a sitting area. Bedroom sitting areas maximize space, compared with trying to carve out a separate private personal space elsewhere.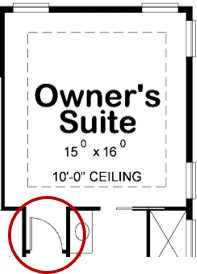 BATHROOMS.
Maximize usability in bathroom layouts that have a sink immediately upon entry by utilizing a sliding/pocket door rather than a hingeddoor into the bathroom. Two separate vanities provide individual countertop space for both of you, and makeup ledges above the sinks provide further space for items you want to leave out. A private toilet area makes this bathroom more conducive to simultaneous use. With 78% of adults surveyed reporting they never use the bathtub, no bathtub in your suite bathroom provides added space for a larger shower. Though buyers show little interest today in sit-down makeup areas, also known as "knee spaces," we have received numerous requests for a seat in the bathroom. Replacing a traditional linen cabinet, Design Basics' Stor-NMore™ amenity makes better use of that space by providing a padded bench that flips up for dirty clothes storage (eliminating the nuisance of laundry baskets that are always in the way), towel hooks, plus linen storage above.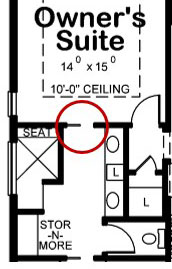 CLOSETS.
A study of Design Basics' home plans reveals new designs today dedicate about 20% more square footage to storage than comparable-size designs introduced just 10 years ago! For hanging on opposite sides, a closet needs to be about 7-feet wide (or deep).
When you can't get that 7-feet, as with the 13-feet by 6-feet closet shown, is a tall ceiling possible? When at least 11-feet high, there's
room for three hanging rods and shelves, providing more clothes storage, plus room for a space-saving, inwall, fold-down ironing board.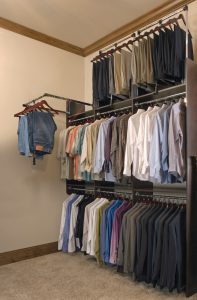 KITCHENS.
Function and form – kitchens are asked to maximize space beautifully. Serious cooks look for abundant countertop prep space. Yet in the kitchen shown, it's likely that the 12- foot deep by 6-foot wide pantry impresses the most. It would require 21 lineal feet of expensive cabinetry to match the storage efficiency of this pantry. And within the pantry, an Appliance Center conveniently keeps your most frequently used small appliances ready to use without cluttering your kitchen counters. Kitchen island eating bars at the same height as the countertops maximize space for food preparation, buffet-style serving, or even finishing schoolwork. When space allows, extending the eating area to wrap around two sides of the island provides more room for quick meals. And 5-foot deep islands, utilizing back-to-back 24-inch deep base cabinets such as in the kitchen shown, provide lots of additional prep space AND storage.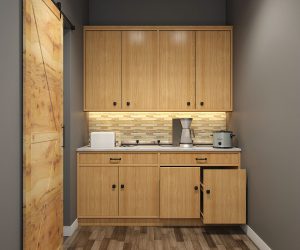 DINING.
Formal dining rooms are rarely desired among today's home buyers, instead showing preference for single eating areas that will be used regularly plus island snack bars. Depending on the size of home and other layout considerations, built-in banquette seating may maximize this space as shown in this plan. Increasingly popular are dining areas that flow uninterrupted into an adjoining entertaining space. Having 10 people for Thanksgiving dinner? Simply add the leaves to your dining table. So what if it extends into the Family Room for a couple hours? You're maximizing the eating space and bringing everyone together. Also, sliding patio doors onto the rear deck/patio in this design maximizes space. A hinged door would typically swing into that area (locks and hinges on the inside provides enhanced security), potentially conflicting with your table and chairs.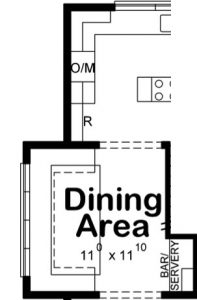 FLEX AREAS.
The new realities of remote learning and working from home, ushered in by COVID-19, further heightened appreciation for flex areas in the home. In Design Basics' Honey Springs home design, the 6-foot by 8-foot pocket office behind the garage provides workspace and privacy without taking up all the space of, say, Bedroom 3 at the front (48 square feet vs. 163 square feet). Additionally, surging interest in maximizing possible space under roof prompted designing a flexible second floor for this original one-story home, adding a relatively inexpensive 772 square feet. The uses for that space are endless! Maximizing space on a second floor has also led to replacing twostory-high areas with finished space. Additional closets, study nooks, and sometimes laundry rooms, have taken the place of soaring entry foyers. And in lieu of 18-foot-high Great Rooms, today's buyers prefer added bedrooms, family lounges, studios, and other flex spaces.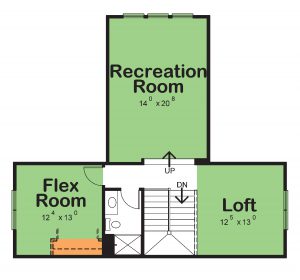 OTHER DESIGN OPPORTUNITIES.
Larger garages maximize finished living space by relocating some storage into the garage. Coming in from the garage, benches topped with coat hooks/cubbies/lockers and a Drop Zone maximize storage and organization. Covered decks and patios expand living space outdoors without the fear of plans being cancelled due to a rain shower. For some plans, storage opportunities extend to areas beneath sloping rooflines.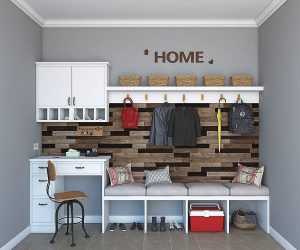 FINALLY, your product selections can impact space maximization. Again, there are obvious choices such as Murphy (wall) beds that can turn a den into a guest room as well as the not so obvious options such as sound-absorbing drywall that allows maximum use of adjoining spaces. Talking with your builder and your home's designer about your space priorities at the design phase is the most cost effective solution to maximizing space in your home!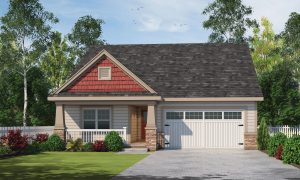 Article By Paul Foresman
Vice President of Business Development
Design Basics
402.331.9223
800.947.7526
designbasics.com