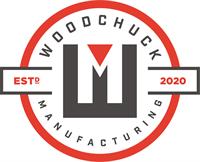 Woodchuck Manufacturing is a state-of-the-art cabinet, closet & garage system manufacturer located in Grimes, Iowa. Woodchuck Manufacturing has developed a micro-manufacturing process to handle specialty projects, custom projects & fast turn jobs at competitive prices. All products are built locally to drastically cut shipping time & costs. The elimination of over-the-road shipping allows us to build a sturdier product & get it in your hands faster. Woodchuck combines the flexibility, beauty & craftsmanship of a custom cabinet shop with the efficiency and precision of a large cabinet manufacturer.
The Woodchuck Difference: We strive to do many things differently to make Woodchuck cabinets the gold standard in cabinetry & to make working with Woodchuck Manufacturing a great experience.
• We can either produce traditional 5-piece door construction or MDF profiled doors for paint applications.
• Our use of CNC routers and in-house finishing capabilities allow us to deliver our products much faster than the competition.
• Hand production area that specializes in fast turn of damaged or incorrect parts. Woodchuck can handle re-dos in days instead of waiting weeks for reorders.
• Woodchuck cabinets are delivered locally to your job site or available for pick-up. This allows us to get rid of all the extraneous packaging & is more eco-friendly.
• We can work in a fully custom environment. You are no longer stuck with stock sizes or particular features. We can design your job specifically for your space and produce those cabinets to spec.
2800 SE Destination Dr, Ste D
Grimes, IA 50111
Phone: (515) 800-9663
Whom to Contact
Faye Senne
Marketing & Sales Director
2800 SE Destination Dr, Ste D
Grimes, IA 50111
Phone: (515) 800-9663